ASHLEY MAYER 
STUDIO MANAGER/INSTRUCTOR
Ashley is originally from Missouri where she began dancing at the age of 6. She studied  Ballet and Modern dance through high school and college and spent a semester in Arizona at the Academy of Ballet Tucson. In 2006 she was introduced to Ballroom dance through the University of Missouri's collegiate competitive Ballroom dance club and immediately fell in love with the style, thus beginning her dance career.  
She spent the next 10 years training, teaching, and competing in all four Ballroom styles, both professionally and with her students. She opened and ran a successful ballroom dance school in the mid-west for 5 years. Ashley also spent time living on the East Coast while pursing her professional career in the American Smooth Division where she had access to world class coaching and added the title of United States Rising Star American Smooth Finalist to her belt at the United States Dance Championships in 2014. Ashley has won numerous top teacher awards around the country while competing with her students in the Pro Am division, and continues to produce quality competitive dancers around the country.

Her professional titles also include Professional Rising Star Finalist  Capital Dancesport Championships 2014, Professional Rising Star Standard Champion, and Professional Open Standard Finalist Heart of America Dancesport Championships 2011. Ashley has extensive experience working with students of all ages and proficiency levels and particularly enjoys working with and training other teachers. 
Available for Private Lessons, Pro-Am Competitions, Showcase Performances  & Shows. Performance Videos -Professional competition,  Student performance
Brodie Kaster began dancing in college when he was handed a flyer to tryout for a dance team.  Since then he has lived under the motto - 'It's not how many years you've been dancing, it's how many hours.'  He received his minor in dance from UC San Diego where he studied Ballroom, ballet, jazz, and modern dance.  During his time in college he won the Amateur Latin Formation Team Championship and was a top National Semifinalist as an Amateur American Smooth Dancer.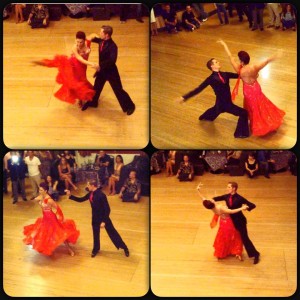 Brodie is an currently a Professional American Smooth Dancer, traveling all over the country to compete.  He has won and been a finalist in multiple Rising Star competitions throughout the nation as well as a finalist in many Open Profession American Smooth competitions.  He has been featured on ABC's Dancing With The Stars as a guest performer as well as multiple other television stations.  Although his main dance style is American Smooth, Brodie is also trained in and has competed in International Latin and International Standard.
Classes currently teaching WED 7pm Ballroom
Available for Private Lessons, Pro-Am Competitions, Showcase Performances  & Shows. Performance Videos - Tango, Vienesse Waltz , American Foxtrot, Pro Competition American Smooth
Vanessa started dancing in classes at The Granada and grew to love dancing right away. She joined the dance team and went on to become a core member. Since then she has danced in Amateur Latin competitions,  Salsa 
congresses, and on TV for various shows & commercials.  Also she has done many performances both professionally and with her students.
Dancing has taken her all over, from China to Las Vegas to Mexico, and performing in venues such as the Hollywood Bowl and at the Rose Parade. She enjoys teaching all kinds of dances whether its Salsa or Bachata, Cha-Cha or West Coast Swing and much more. Seeing a students light up when they first pick up a dance is a wonderful moment, which she loves being a part of.  
Classes currently teaching TUES  8:00pm Salsa 1 - WED 7pm West Coast Swing - 8pm Lindy Hop - FRI 8:30pm Intro Salsa - SUN 1:30pm Salsa 3*, 2:30pm Salsa 2*
Also Available for Private Lessons, Showcase Performances  & Shows. Performance Videos - Salsa, Student Solo, Salsa Pro Team 
Hector started dancing on a Latin & Ballroom dance team when he was in high school he grew to love dance. He also started competing in the Amateur Latin division  for several years and also in Pro/am competitions around U.S. 
When he became an instructor at The Granada he continued competition in Salsa and in 2003 was the Professional Sportsmans lodge salsa champion & finalist in many other competitions around the L.A scene.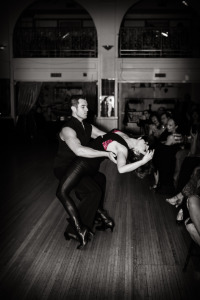 He has travelled performing & teaching in shows, congresses and competitions throughout his professional career.  He travelled the world performing on major cruise ships in Latin & Ballroom shows & productions.
 Classes currently teaching Am Team** - MON 8pm-930pm -TUES 7pm Salsa 4*, 8pm Salsa 1 - THURS 7:30pm Intro Bachata, 830pm-10pm Bachata Team FRI 8:30pm Salsa 2* - SAT 10:30am AM Team, 8:30pm Nightclub Salsa - SUN 2:30pm Bachata 1, 3:30pm Bachata 2. 
Also Available for Private Lessons, Pro-Am Competitions, Showcase Performances  & Shows. Performance Videos - Samba, Cha Cha, Paso Doble, Rumba, Salsa Pro Team
Brigitte is Salsa & Rueda specialist with training in Ballroom and Latin. She started as a student  working her way through all the levels and starring as an anchor on the Youth Dance Team, Brigitte is well trained in Salsa, Casino Rueda and also some of the Ballroom & Latin dances.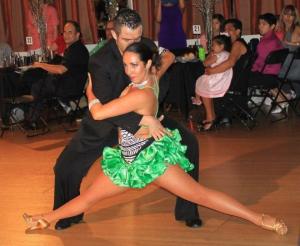 She has also competed as a Amateur latin competitor in U.S competitions with several partners. She has also performed in Salsa Congresses & many other shows in U.S. & around the world as a professional Performer and instructor. 
Classes currently teaching Video - MON   7pm Salsa Training Team** Video 1, Video 2, - TUES  7pm Cha cha, 8pm Salsa Styling 2*- FRI 7:30pm Rueda*, 8:30pm Salsa 2*-  SAT 9am Youth Team, 10:30am Salsa Training Team, 1pm Rueda* - SUN 3:30pm Salsa 1
Also Available for Private Lessons, Pro-Am Competitions, Showcase Performances  & Shows. Performance Videos - Burlesque,  Salsa, Salsa Team
KAYLA OCHOA
At an early age Kayla was inspired to discipline her body for performance through her training in Tae Kwon Do where she attained a black belt. While in school Kayla studied ballet and other forms of dance. She then went on to be professionally trained in Ballroom, Latin, Salsa, Swing & Argentine Tango by Professional Dancer Christian Perry.
Her training and passion took her to the World Promotions Texas Star Ball Dance Competition where, together with students that she trained, achieved success. Currently Kayla attends Azusa Pacific University and hopes to use the knowledge she gains as a communications major to further her career and effectiveness as an instructor.
Currently Teaching  SAT 9pm Club Bachata or Salsa
Also Available for Private Lessons, Pro-Am Competitions, Showcase Performances  & Shows.
Performance videos - Salsa
Bio COMING SOON!!
Originally from Moldova
Performance Videos: Cha Cha, Pro/Am Comp with student Masha
**Available for Private Lessons, Pro-Am Competitions, Showcase Performances  & Shows.  
Alex first started dancing in college in 2003 by joining the salsa club as a dare by his friend. Although he thought it was a crazy idea he decided to go. Little did he know that it would change his life forever. After attending a little club in Alhambra, to finding The Granada L.A. and
becoming a student. Since 2003, Alex has trained in Ballet, Latin, Ballroom, Hip hop and pretty must anything that can keep up with his high energy. He has a positive attitude towards trying anything and giving it all you got. 
From dancing in clubs in LA to traveling the world, Alex has taken his style to many places including performing on Television shows, at Rose Bowl Parades, in Salsa & Bachata congresses and competitions. From music to theater he loves all entertainment which has inspired him in his showmanship and lively energy on the dance floor & on stage. "Without the fun, dance will not survive in my life" 
Currently Teaching TUES 9:00pm Bachata 2.
**Available for Private Lessons, Showcase Performances  & Shows. 
TIM LESLIE 
Tim started dancing in college, developing a passion for lindy hop and soon after joined their performance team. After teaching Lindy Hop for a
few years, Tim branched out to learning latin dances, performing on The Granada LA's Amateur Salsa team as well as training and competing in International Latin as an Amateur. Tim has danced all over the country, including Ohio, Pennsylvania, Nevada and California for various competitions and performance opportunities. Tim is currently a Professional American Rhythm competitor in the Rising Star division where he travels all over to compete with his partner. Tim has a passion for bringing together technique and passion to bring the most out of every dance experience both on the stage and on the social dancing floor.
Currently Teaching FRI 8:30pm Intro Salsa
**Also Available for Private Lessons

Dance first caught Arien's attention as a timeless way to stay connected to music for years to come. Enamored with Salsa from the very outset, it wasn't until his first classes at The Granada L.A that the concepts of lead/follow and expression through movement truly began to click. Shortly thereafter he encountered his true dance love, Bachata and hasn't looked back since. Over the years he has trained with various instructors from the L.A. scene and beyond in both salsa and bachata, most recently completing a training course with world-renowned salsa on2 dancer Kimberli Flores in 2016. He brings performance experience as well as cross-disciplinarian dance training through his time spent with the MG and Latin Rhapsody Dance companies, and has most recently placed 2nd at a local L.A. Dominican Bachata competition in 2015. Arien's true calling and passion ultimately = lies with social dancing; his goal is to inspire his students to infuse connection, creativity and confidence into every dance experience they have and to enjoy the moment. As he likes to say, "You're never too old to learn something new about yourself!"
Currently Teaching THURS 8:30pm Bachata. Available for Private Lessons

Performance Videos - Bachata, Bachata 
Marisol was born and raised in Los Angeles, California. Growing up with a rich Colombian and Cuban background allowed her to indulge in various tropical beats and sounds, leading her to further appreciate music of all types. In the midst of such cultural diversity, she first encountered her passion for dance through Mexican folklore at the age of 4. In High School, she decided to pursue a different form of movement and started cheerleading, quickly excelling and becoming a captain and choreographer.
Shortly after High School she was introduced to the world of Bachata through Que Rico Dance Company. Even at an early age and just starting with Bachata, Marisol, quickly moved up in the ranks from student, to performer, to instructor and lastly a director in less than a year. She was trained and mentored by the Bachata pioneer, Jorge Contreras and all-star dancer Aubrey Ares. This is where her journey as a dancer truly started to sky rocket, teaching and performing at private events such as weddings, engagement parties, and birthdays; and world-renowned festivals including: Los Angeles Summer Bachata Festival, Grizzly Dance Festival, Aventura Dance Cruise, Los Angeles Bachata/Kizomba/Salsa (LA BKS) festival, Los Angeles Summer Bachata Festival, Reno Latin Dance Fest, LA Salsa Congress, and Bachata Day in Milano, Italy. With a style of teaching that is solely focused on self-love and confidence, her main aspiration is to help people channel the best version of themselves through the art of dance.
Currently Teaching MON & THURS 8:30pm Bachata Team - SUN 2:30pm Bachata 1, 3:30pm Bachata 2*. Available for Private Lessons & Performances
Performance Videos: Bachata Solo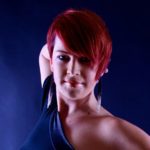 KRISTY RIVERS (General Manager) 
Kristy was born in Australia, Kristy has been involved in the dance world practically since birth. She comes from a well-known and respected dance family of  World Champion Dancers.
Kristy's competition experience began at age 10 dancing all over the world. She has multiple juvenile and junior titles from Australia, and as an amateur, has placed first in several prominent US Latin championships.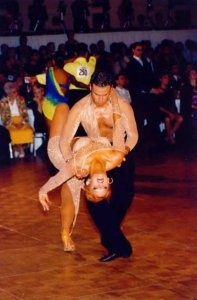 She turned pro at 19 and teaches, competed and performed nation-wide and overseas. She has been a Rising Star Latin Champion at many competitions and a finalist 2 years running in the North-American National Championships as seen on TV.  She has also performed in the LA Salsa Congress & other performances all over LA and United States. She has extensive teaching experience in Ballroom, Latin, Swing & Salsa
Kristy has also been a performer and choreographer for stage shows, film and cruise ships such as Royal Caribbean, Raddison & Silverseas.
Her highlights include a featured spot in the acclaimed dance film, "Dance With Me" and on ESPN as an instructor for the show "I'd do Anything".
Kristy loves to teach people of all ages and the joy & inspiration it brings to there lives. "The body says what words cannot"     
 Video Profile Available for Private Lessons & Shows. Performance Videos - Showdance, Vienesse Waltz, Samba, Waltz,  Burlesque, Waltz , Cha Cha,  Paso doble