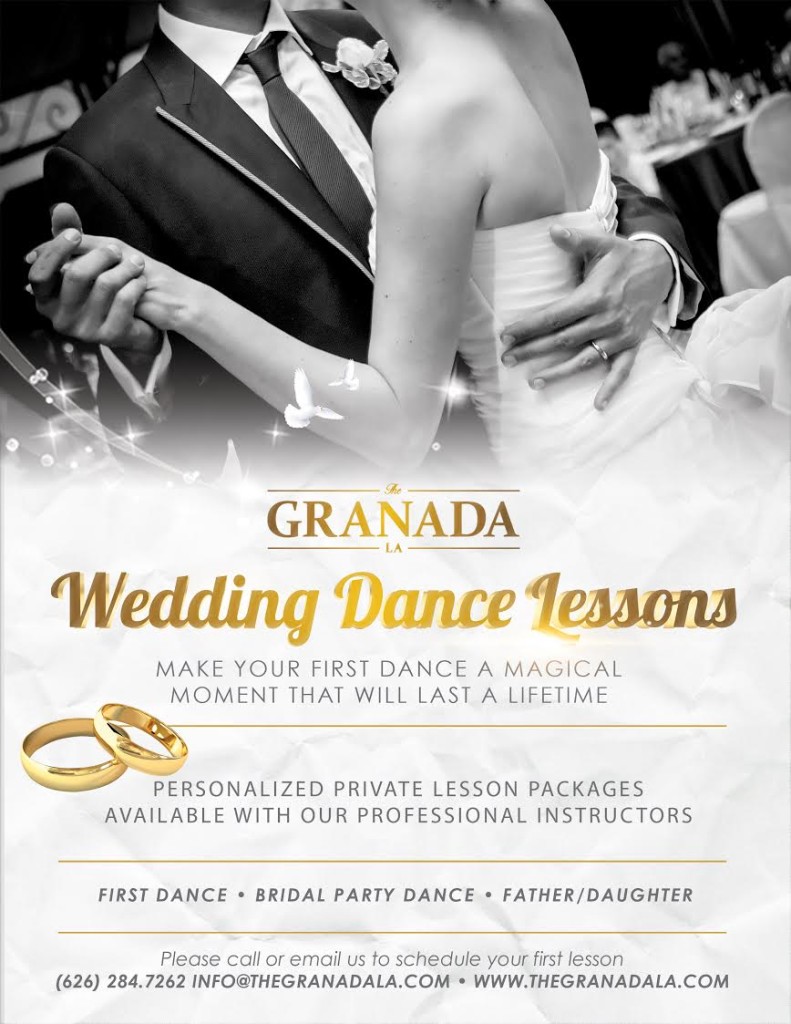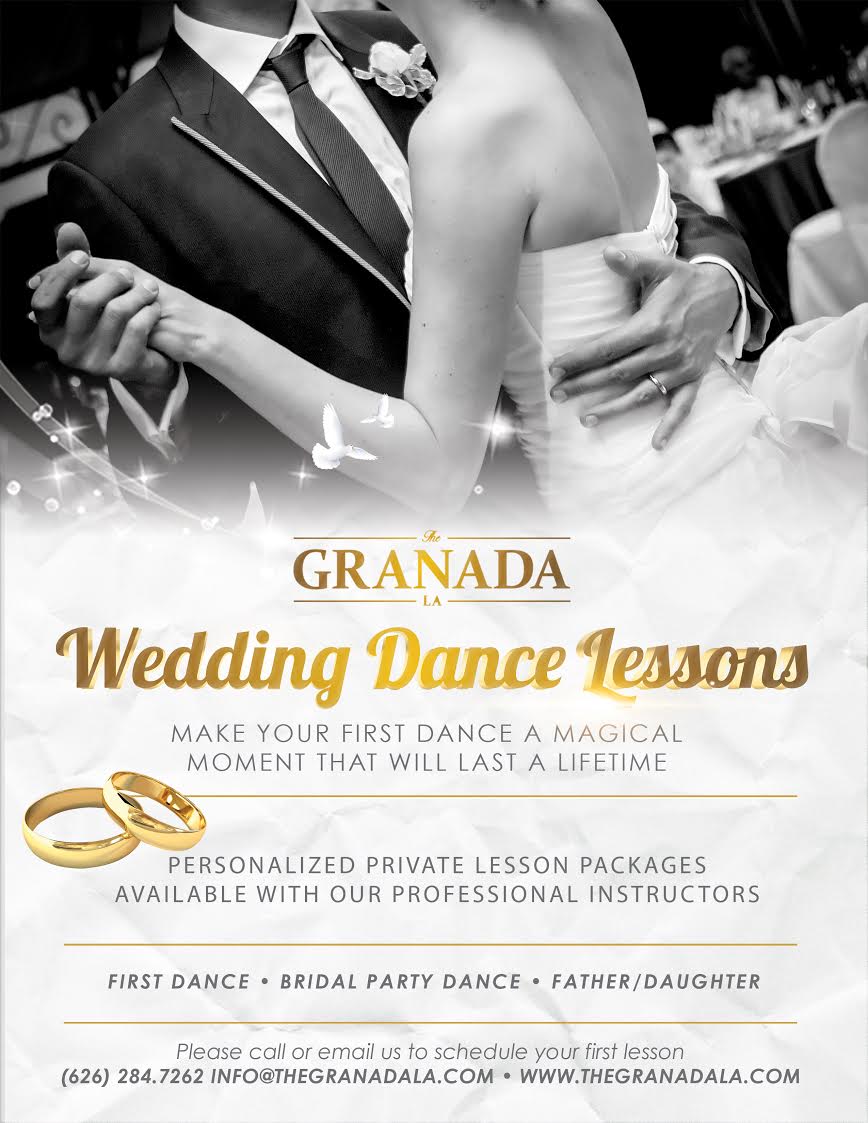 The Granada LA Dance Studio Wedding First Dance Packages
As husband and wife, your wedding dance should be a treasured moment you can look back on together. Let your wedding dance be a reflection of your partnership moving forward as one. With adequate preparation for this moment your wedding dance will be a cherished memory enjoyed by you and your guests for years to come.
"What if we don't have a song picked out?"  If you can't decide on music, don't sweat it! We have a great music selection and will be happy to help you find a song you love.We specialize in helping you personalize a memorable wedding dance from the simplest of steps to elaborate routines. We will help you in selecting a song, the style of dance and determining level of choreography to personalize your experience. We can also teach you some of the other social dances to dance the night away at your wedding.
"What about my schedule? I'm just too busy!!"  We realize planning a wedding is extremely time consuming. We are happy to work with you and schedule your lessons at your convenience.
"Aren't all wedding dances the same?"   Definitely not! There is a wide range of dances available to you! Popular Wedding Dances include but are not limited to, Waltz, Foxtrot, Swing, Salsa, Rumba, Cha Cha, Tango.
Bronze Couples Package
3 Private Dance Lessons & 4 Group Lessons each $299 (includes choreography for first dance & any 4 beginning dance class per person)         $58 Savings
Silver Couples Package
5 Private Dance Lessons & 4 Group Lessons each  $449 (includes choreography for first dance & any 4 beginning dance class per person)         $66 savings
Gold Couples Package
Includes 10 Private Dance Lessons & 6 Group Lessons each $799             (includes choreography for first dance & any 6 beginning dance class per person) $171 savings
626.227.2572 – info@thegranadala.com
The Granada LA Dance Studio Quinceanera Dance Packages
Usually three dances are needed for the Quinceanera celebrations: The Group Waltz, the Father/Daughter dance and the Group "Fun" Dance.
Starting your lessons early will help you have enough time to rehearse your dances and not rush at last minute to pull it together.
Group Waltz
When choosing a song keep in mind if you have a theme for your event and also words to be appropriate to occasion. Keep in mind the number of dancers and abilities of your group, an we have instructors to help you with making sure its choreographed accordingly.
Father/Daughter Dance
In this dance the young lady and her father will dance a waltz choreographed to a special song appropriate to the relationship 
Group "Fun" Dance
This dance can be a sassy salsa or a combination of latin dances like merengue, rumba, cha cha. Also dances like swing or even a group tango. Dance  will be choreographed with dancers ability in mind
Whatever your dancing needs, our instructors will make your experience fun and exciting. We will help give you with music, practical choice of costumes, ample rehearsal time and make this experience fun and easy.
Single Father/Daughter: Lesson per hour $80
Bronze Package – 5 Private Lessons $375
Gold package – 10 Private Lessons $720
Group Dances (up to 14 ppl): Lesson per hour $95
Bronze Package – 5 Private lessons $450
Gold package – 10 private lessons $865
626.227.2572 – info@thegranadala.com